Effective Media Blasting Services in Kalamazoo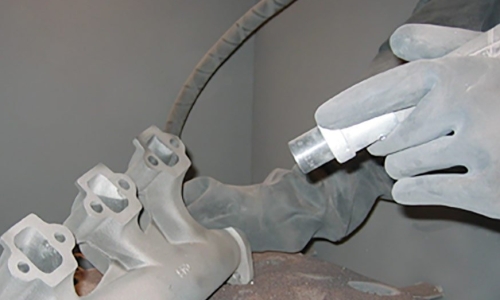 There is a lot of prep work that goes into getting metal ready for painting, powder coating, or other aesthetic procedures. For a successful project, the surface needs to be free from any possible contaminants. High Performance Metal Finishing can provide you with effective media blasting service that can remove paint, rust, and other surface contaminants, so the surface of the metal is smooth and ready for any finishing procedures. In today's post, we will discuss the benefits of using effective media blasting to ensure a completely smooth metal surface so the final product looks perfect when finishing procedures are done.
Inexpensive and Effective Media Blasting
High Performance Metal Finishing can complete your media blasting project with a high standard of quality. We use methods that are inexpensive and efficient, giving you top quality results while saving time and money in the process. We use a reusable type of media that helps us keep costs down without compromising our quality standards. Not only does our process remove dirt, rust, and paint, but it will also even out abrasions, gouges, and uneven areas to create a clean, even surface that is ready for the next procedure.
More Effective than Chemical Cleaning Methods
Media blasting is more effective and safer than traditional chemical cleaning techniques. Not only are chemicals more likely to damage or mar the surface of the metal, but they are also not nearly as environmentally friendly as the blasting media we use. Because we can reuse our blasting media, there is no waste involved the way there is with chemical cleaning solutions, some of which are toxic. This means that you are not only getting superior media blasting service, but you are also helping the environment by reducing waste.
We complete our media blasting in a controlled environment that is safe for our employees and that eliminates the possibility of any contaminants ending up on the metal surfaces. No matter what your media blasting needs may be, you can count on our experienced team to complete the work with a strict attention to detail. These services are perfect for parts in the automotive, marine, and manufacturing industries, so no matter what sort of project you need, you can count on us to get the job done the right way. Contact us and let us know how we can assist with your media blasting needs and contact us today.