Learn About Our Metal Finishing Processes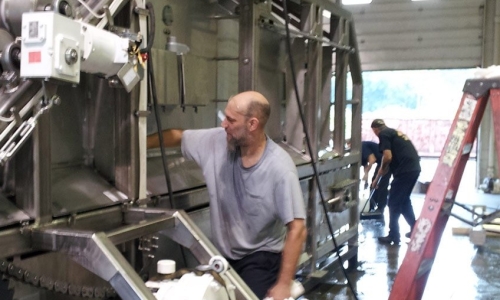 High Performance Metal Finishing offers a full range of metal finishing processes for many different applications. From cleaning, degreasing, and media blasting to wet coat painting and powder coating, we can handle all of your metal finishing needs with the highest standard of quality in the industry. In today's post, we will give an overview of some of the many services we can provide for you.
Stainless Steel Electropolishing
Many of the mechanical finishing systems end up smearing, bending, or stressing the metal during the process of polishing the surface. In some cases, the surface of the metal can even be cracked during the process. We at High Performance Metal Finishing can perform stainless steel electropolishing that can remove surface metal without leaving any sort of pattern on the metal. This results in a highly reflective, smooth finish without any occlusions or stress. This also makes the surface safe from bacteria, as the electropolished part contains no hydrogen and shows no directional lines
Prevent Corrosion with Passivation
While stainless steel is resistant to corrosion, it is not completely impervious to rust. Passivation can help prevent this corrosion by fortifying the metal while preserving its appearance. This process is highly beneficial, as it cleans the part, removing free iron and preventing any further oxidation.
Media Blasting for Powder Coating Preparation
Media Blasting is an effective way to prepare metal parts for production and painting, With a quick curing time and no volatile organic compound (VOC) emissions, media blasting is the best way to clear the metal surface for powder coating. Powder coating provide a stronger, thicker coating than more conventional liquid coatings without the running and sagging for a more even coating and better aesthetic appearance.
Optimize Your Aluminum
We utilize an Aluminum Cleaning Process that removes surface contaminants for superior quality and corrosion resistance in your metal. Similar to the stainless steel cleaning process, our technicians will wear Tyvec suits and ambidextrous gloves while ensuring that your aluminum is properly cleaned and completely free from contaminants for whatever type of production you are working on.
Critical Degreasing Services
An essential part of the metal finishing process, degreasing will remove oil and dirt from the metal's surface, making it ready for electropolishing or powder coating. Failure to properly clean the metal surface will result in a drastic decline in the overall quality of the parts. We make sure that every metal part we work on is thoroughly cleaned before moving on to any other part of the process.
No matter what sort of metal project you are working on, we will make sure the metal is properly prepared for long-term success. Contact High Performance Metal Finishing and let us know how we can help with your metal finishing needs.