Electropolishing 101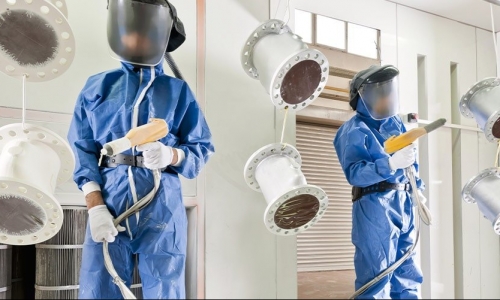 High Performance Metal Finishing knows the importance of electropolishing in the metal industries. While most Electropolishing companies have small to moderate sized tanks and can only handle similarly sized parts. High Performance Metal Finishing has one of the largest tanks in the industry, measuring, 10' W x 10' L x 20' D.   This large tank size allows us to do stainless steel process equipment utilized typically in the semiconductor, food processing, bio-pharmaceutical, chemical, brewery / beverage, and bulk powder processing industries.  These industries tend to have unique metal finishing needs due to the high sensitivity of the materials being run in their process or touching these pieces of equipment.
Electropolishing systems require rinse water to remove solution from the parts after each chemical operation.  Most modern electropolishing systems Incorporate evaporative recovery or multiple rinse technologies to minimize the amount of rinse water used.
High Performance Metal Finishing meets or surpasses DEQ, EPA, OSHA, and Michigan State regulations regarding electropolishing pre-treatment and electropolishing baths.
The processes for cleaning and handling stainless steel are as follows:
Prior to Processing, your parts shall be thoroughly rinsed with DI water and inspected for damage.
Your parts shall be submerged in a proprietary cleaning solution to remove oils and dirt.
Your parts are then rinsed again with DI water.
All heat discoloration, scale and heat mill oxides and weld discoloration are then removed.
All parts shall be thoroughly rinsed with DI water after each process.
Your Parts are then electropolished, pickled, passivated, etc. to strict guidelines and customer specs.
Your parts are rinsed again with DI water, dried, and moved to the clean room.
Your parts are then final dried, and test swabbed in a clean room environment or in our class 100 clean room away from the processing area to ensure there are no contamination.
All parts shall be packaged per customer spec and stored in the clean room environment waiting to be shipped.
All technicians will wear Tyvec suits with hoods and ambidextrous gloves.
As you can see from the above process outline, we follow strict process control procedures to ensure quality, contamination free and passive parts.