Protect Against Rust with Stainless Steel Passivation Services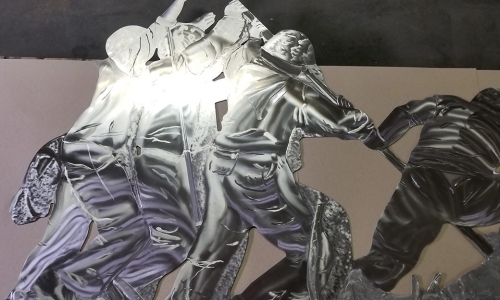 Stainless steel is resistant to corrosion and rust, but that doesn't mean it is completely invulnerable to them. Under some conditions, stainless steel can become rusty. Whether from typical water exposure or through exposure to intense heat, corrosive chemicals, grease, or other causes, stainless steel is not completely impervious to rust. High Performance Metal Finishing can make sure that any stainless steel you need for your next project is properly prepared through our stainless steel passivation services. In today's post, we will discuss how the passivation process protects your stainless steel against corrosion.
What is Passivation?
The passivation process involves the use of a specialized chemical solution to clear the stainless steel surface of any free iron. As a result, the chemical treatment produces a protective oxide layer, also known as a passivation film, on the stainless steel surface that is less vulnerable to chemical reactions that cause corrosion. This makes the stainless steel resistant to rust, which will prolong the life of the product made with the steel.
Perfect for Food Preparation
Stainless steel is one of the most popular options for food preparation in the food industry. These prep tables get exposed to different foods and chemicals that can cause the surfaces to oxidation or rust. While keeping these surfaces clean can certainly help keep the stainless steel in good condition, the passivation process will make the stainless steel even more resistant to oxidation. This will make the passivated stainless steel longer lasting than stainless steel that has not undergone the process. This makes stainless steel passivation a great process for food service tables, which need the extra protection against the constant abuse they receive from day to day.
A Proven Process for Proven Results
Our team of expert professionals at High Performance Metal Finishing has more than 30 years of combined experience performing stainless steel passivation services for clients in a variety of industries. We are able to produce consistent results which have been verified through our quality control process. This gives our clients the peace of mind knowing that the passivation results will be the same on every project you need our assistance with.
The team at High Performance Metal Finishing is dedicated to providing the best finishing services in the industry, including stainless steel passivation, media blasting, powder coating, and more. For more information about how we can help with your metal finishing needs, please contact us.