Quality Electropolishing Service in Kalamazoo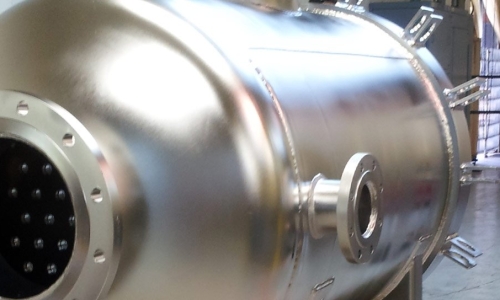 For businesses in the greater Kalamazoo area looking for dependable electropolishing services, High Performance Metal Finishing is your top choice. With the capabilities to complete electropolishing on many types of stainless steel, like 200, 300, 400, and Al6xn, we can put a mirror finish with our process that help bring the nickel and chrome to the surface of the steel. Please read further for more information about the trusted electropolishing service you can get from High Performance Metal Finishing in Portage.
Get Fantastic Results Through Our Time-Tested Process
High Performance Metal Finishing uses a proprietary electropolishing process, using our tank that is specially designed for the job, much like our anodizing and electroplating processes. We mount the parts on a rack or jig, then move the parts from tank to tank, following the same routine every time for every client to get consistent results on every job we do.
Metal Preparation
The metal we are electropolishing needs to be free from any contaminants, like oils, lubricants, dirt, fingerprints, or anything else that could compromise the quality of the project. To do this, we may use vapor, solvent immersion, alkaline cleaning, acid soak cleaning, or other processes to completely remove anything from the metal surface before proceeding with electropolishing procedure.
Electropolish
Once the surface of the metal is completely cleaned of contaminants, we can begin the extensive process of electropolishing the metal to smoother, deburr, brighten and passivate it properly. This process can also result in stress relief, reduction of friction, hygienic cleaning, and improved resistance to corrosion in the metal.
Post Treatment
With the electropolishing process completed, all by-products and chemical residues need to be removed from the metal surface, which will not only ensure the surface is in perfect condition, but will also speed up the drying process.
Clean Room
All parts that have been electropolished and gone through the post treatment process will then be moved into our clean room where the parts can be dried completely without the worry of them becoming contaminated.
This process will result in great looking metal due to a number of factors:
Brightening & Superior Quality Surface Cleaning
Burr Removal & Deburring
Highly Reflective Surface
Improved Smoothness & Sealing
Sharpening of Instruments for Medical, Pharmaceutical, and Food Industries
Total Passivation
Oxide and Tarnish Removal
Removal of Scale, Discoloration & Surface Occlusions
Improved Adhesion in Subsequent Plating
Removal of Directional Lines
Radiusing of Sharp Edges
Reduced Buffing, Grinding Costs & Surface Friction
Stress Relieved Surface
Removal of Hydrogen
Less Corrosion
Reduction in Surface Profile
Increased Corrosion Resistance & Ratio of Chromium to Iron
If you need have a project that requires electropolishing, contact us to get more information about how we can help complete the work.